It's that time of the year again. Although Florida may be known for its never-ending sunshine, hurricane season is another important part of the calendar year for Floridians and visitors alike. Hurricane season begins June 1st and along with all the fun spring/summer activities you may be planning, hurricane preparations must be at the top of your list.
For property managers, homeowners and condominium associations (or any property owner in general), a crucial aspect of being "hurricane ready" is taking care of your landscape. Good landscape preparation could not only save you money in the aftermath of a storm and help you avoid property damage, but it will also ensure you and your neighbors' safety during and after the hurricane.

Also, read until the end to find and download our FREE Hurricane Preparedness Guide.
What Does Hurricane Landscape Preparedness Mean?
Tree care is one of the most important things when preparing your landscape for hurricane season. Ideally, tree trimming and pruning should happen well before the season starts, however there are some things that can be done as hurricane season approaches.
Remove Dead, Broken or Twisted Branches
Make sure to inspect your trees thoroughly. Are there any broken, dead or twisted branches on your property site? If so, they need to be removed so they don't become projectiles during the storm.
Leaning Trees
In some cases, due to natural growth or previous storms, there can be trees leaning close to or against your property. If that's the case, these types of trees should either be braced or removed as they can become a liability and present a risk to your property; or a safety hazard for you or your neighbors.
Staked or Braced Trees
Keep stakes and/or braces on trees that have been recently installed. They can be re-evaluated after hurricane season.
Dense Canopy
Thinning the canopy of any trees on your property will reduce the density of branches and allow for air movement. This will also reduce the weight of the limbs and help a mature tree resist significant storm damage. [1]
Palm Trees
Do not remove any green fronds from the crown of the palm. This can weaken the palm, making it more susceptible to damage in a storm, and induce nutrient deficiencies. [2]
Should You Hire a Professional?
When dealing with larger or more mature trees that can require the use of specialized power equipment, getting your trees and landscape ready can quickly become a complex, even dangerous task. With bigger landscapes for communities or commercial properties, making sure everything is ready for hurricane season is not a job that should be taken lightly. The best bet is to hire a professional team that have all the equipment, experience and certifications necessary to do the job.
Our arbor division can do anything from annual tree trimming to some of the most complex tree removals. We have a large fleet of bucket trucks, wood-chippers and stump grinders. The arbor team consists of certified bucket operators and tree climbing experts all led by a certified arborist.
Click below to place your work order and not being caught by the storm!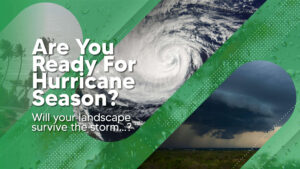 What Else Do You Need to Know to Prepare for a Hurricane?
There are many other things to take into consideration before hurricane season arrives. Please call us to help you understand and plan for this hurricane season.
Hurricanes don't plan ahead, but you can.
Hurricane Season is Coming

Hurricane seasons begins June 1st through November 30th.

Learn everything and download our FREE hurricane preparedness guide.
[1] Michelle Leonard – Mularz: http://blogs.ifas.ufl.edu/monroeco/2018/05/24/landscape-hurricane-preparedness/
[2] Michelle Leonard – Mularz: http://blogs.ifas.ufl.edu/monroeco/2018/05/24/landscape-hurricane-preparedness/
More Posts You May Find Interesting