Hurricane season in Florida is not something to ignore. Any property owner in Florida will tell you how important it is to prepare your home inside and out for the start of hurricane season. If you have recently moved to Florida and want to ensure your home is ready for any upcoming hurricanes, it's best to start preparing now before the tropical storms are knocking at your door. Keep reading our article to learn not only how to prepare for a hurricane that involves your landscaping, but some handy tips for overall hurricane preparedness.
Read until the end to find and download our FREE Hurricane Preparedness Guide.
How to Prepare for a Hurricane
Preparing for a hurricane can be a time-consuming process. Below we've made a list of some of the most important things you can do for your landscaping when preparing for a hurricane.
Stormwater Systems
Retention ponds, storm drains, and gutters are all part of the Florida stormwater system to help move excess stormwater away from neighborhoods and streets during heavy storms. To help ensure that this is functioning properly, clear your gutters of any leaves, branches, or other debris. If you don't have any gutters on your home or property, think about putting pavers in the runoff area to reduce soil erosion.
Trees and Shrubs
Be sure to inspect your home before the storm or hurricane approaches. Are there any bushes or trees that are too close to your home? Prune these so that they don't damage any shingles on your roof or break any windows. If any trees on your property look unhealthy, it may be best to speak to an experienced landscaping team to help you manage any trees that need removing.
Irrigation Systems
Another way to prepare for upcoming hurricanes is to switch off any irrigation system on your property. Saturated soil together with high winds can lead to uprooted trees, especially trees with shallow root systems. Make sure to turn your irrigation system off when a tropical storm or hurricane is approaching. You can turn it back on to an automated system once the soil dries out.
Fertilizer
Hurricane preparedness for your landscape involves your fertilizer as well. Do not spread fertilizer if a hurricane is approaching – or even a heavy rainfall. Save yourself time and money by not fertilizing during the rainy seasons.
Bugs and Outdoor Animals
If there is a lot of rain associated with the storm, be prepared for a lot of creatures looking for higher and drier ground. Snakes, ants, and roaches in particular will try and escape saturated soil to survive. A sticky board may be the best option for protecting your home from snakes, and there are multiple products on the market to help control or reduce insects in your home.
Should You Hire a Professional?
At Cutters Edge, we understand the South Florida weather can be wonderful but also comes with its challenges. Our team has decades of experience providing total landscape solutions for our clients with fantastic results. Contact us today to discuss how we can help you prepare for a hurricane.
Click below to place your work order and not be caught by the storm!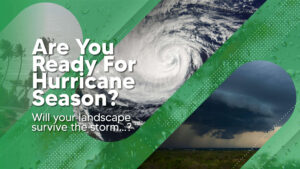 What Else Do You Need to Know to Improve Your Hurricane Safety?
There are many other things to take into consideration when facing hurricane season. Please call us to help you understand and plan for your safety.
Hurricanes don't plan ahead, but you can.
Hurricane Season is Coming

Hurricane seasons begins June 1st through November 30th.

Learn everything and download our FREE hurricane preparedness guide.
More Posts You May Find Interesting